Natural Pigment
100 SERIES OF NATURAL ANTIOXIDANT

Compared with chemical synthetic pigments, natural pigments are widely used in the industries of food and cosmetics because they have the advantageous characteristic of being safe and non-toxic. Antioxidants have obvious function of color protection because the chromogenic group of natural pigments are easily oxidized.
100 series of natural antioxidants is successfully launched by SUPTEK after many years of research in different structure and production process for various food colors, such as monascorubin, capsorubin and lycopene.
COLOR PROTECTION FOR NATURAL LYCOPENE
Adding 115CL into different concentration of n-hexane solutions, prolongs the time of color preserving.
RESULT
² Under the condition of direct radiation from ultraviolet light for four hours, it showed that color degradation rate of the control sample was 78.8%, however the rate was only 45.2% for the sample with 0.5% 115CL, and 15.2% for the sample with 1.0% 115CL.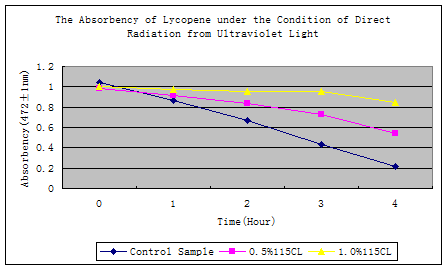 Remark: According to GB 28316-2012 standard of Food Additive Lycopene, the content of lycopene is directly proportional to the absorbency which tested under 472nm.