Aquatic Product
300 SERIES OF NATURAL ANTIOXIDANT Rosemary Extract
Aquatic products is a kind of food which is popular with people, however it is easily oxidized and deteriorates due to long-distance transportation. Besides cold storage, adding appropriate quantity of antioxidant can prolong its shelf life.
300 series of natural antioxidant was successfully launched by SUPTEK after many years research. It is a natural antioxidant ingredient which is extracted from plants, is safe and non-toxic, therefore it has good antioxidant effect on aquatic products, such as shrimp, tilapia and so on.
INHIBIT THE OXIDATION OF SHRIMP
Adding 305R into different shrimp samples, prolongs shelf life.
RESULT
² The volatile basic nitrogen(VBN) of the control sample reached 30mg/100g with 91.8 hours, however 132.7 hours for samples with 0.015%305R, and 160.1 hours for samples with 0.02%305R. It indicated a notable increase of shelf life.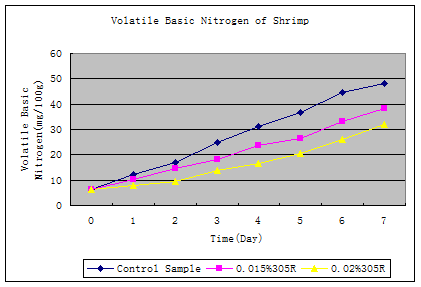 Remark: According to GB2733-2005 the hygienic standard for fresh and frozen marine products of animal origins, volatile basic nitrogen of sea shrimp shall be less than or equal to 30mg/100g.